Was it really just last Wednesday that I was posting about my EC Life Planner and related transitions? Well, I have now jumped in to Bullet Journaling with both feet! I discovered Midori (traveler's) notebooks. It is truly a match made in heaven.

---

I made this case/cover for my notebooks. The inside is fabric, which I sewed and embroidered to meet my needs and make it pretty.

---

I made the outside out of leather. So far, it just has a simple tie on the outside. I decided to hang out with it for a few days before I trim the edges and make the final fastener. I am not sure if I will go for the natural look or hemmed lines on the leather.

I have four notebooks inside:

Main Bullet Journal (dot grid, 80pp)

Future Log
Monthlies
Dailies
Small Projects

Rants & Raves (dot grid, 40pp)

Challenges
Doodles
Rants
Raves

Lists / Collections (lined, 40pp) : This is for things that will not change often. Basically, lists that will be ongoing and that I do not want to have to re-write every time I fill up my Bujo.

Long Term Goals
Vinyl Collection
Square Dance Calls
Dream Job
Quotes
100 Things I want to do before I die
etc.

TBD (Graph, 40pp)

This book is still blank. I ordered a sample set from Ann over at AORJournals on Etsy. Being new to bojoing, I wanted to try all the paper types, I just haven't figured out what this one will be for yet. Side note, Ann is awesome. Great customer service and quick responses/shipping. I highly recommend her.

I have joined a couple of challenges already.

Check out #PlanWithMeChallenge and #RockYourHandwriting on IG.

---

I look forward to sharing this adventure. I will post a full detail of my July spread as soon as it is fully developed.

Happy Planning,
​

Powered by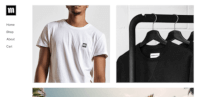 Create your own unique website with customizable templates.