If you haven't heard of KonMari, I highly recommend that you check out this philosophy on "stuff", clutter, and organization. The author and champion of this system is

Marie Kondo, of KonMari

fame. She has a book, and the webs we weave have countless blog posts outline the details of the system. So, I am not going to get to in depth with it here. I am to give you and overview. Then if you are inspired. . .get her book or check out her website for all the specifics.

​

The basic idea is this: keep only those things that spark JOY. Yes, joy. Pick up each item you own (in a systematic series of categories); decide if it brings you joy; and keep it or pitch it. Rinse. Repeat. With every single piece of every single thing that you own or have dominion over. The challenge is also to get it all done "in one shot". Work through everything you own as quickly as possible. Do not lose momentum.

The categories are designed to go from easiest to hardest:

Clothes
Books
Paper / Documents
Komono (everything else)
Momentos



Clothes

I did start out with my closet, as directed. It wasn't quite as simple as it could have been. Because of my rapid weight loss, I had to not only sort things that don't fit right now, but I also kept a few things that don't bring me joy. . . so that I wouldn't have to run around naked until I lose another 20#! I went ahead and integrated my "skinny clothes" into my closet. Now it is all together. Every 10# or so, I cull through it again and weed out a the big stuff.

Here's is a little idea of what the process looked like. You have to bring the entire category together and sort it all at once. So in the case of clothes and accessories, that mean dumping it all in my closet floor. I was prepared with my sorting containers:

Keep
List it. (getting rid of, worth enough to list on eBay or in a FB group)
Garage Sale ~ Priced
Garage Sale - Not Priced ($0.25 and $1.00 items)
Sewing Basket - Anything that I wanted to keep that wasn't in a wearable state.

This whole process for clothes and accessories took about two days, not counting the time listing items. . .which is a WIP. I will say that it went much faster than I thought it would, and the results were dramatic! I know that my closet is still huge and there are still a lot of clothes in there, but it is so much easier to deal with! I can see everything. . . I put things away because I actually know where they go. I have been wearing clothes that were previously out of sight and mind.

Books

I did the books, but I did not bring them all into the same space as recommended. I worked in the different rooms and boxed up most of them for the garage sell. I was worried about books because I have. . .err. . had so many. But with JOY as my barometer, it was very easy to get rid of the lion's share of my books. I saved a few cookbooks, two or three art books, and maybe 10 miscellaneous books. This from the bibliophile. All of my books would actually fit on one shelf now. . .provided I wanted them in the same room.

Paper

I was really dreading this category. I hate paper. No seriously, I hate it. Mail, paperwork, records, taxes, all of it. . .yuck! So, because I have been so bad at managing it. . .I tend to cram it someplace and forget where I put it (or that 'it' even exists). There was lots of paper. I got it narrowed down to this:

The folders are things I scanned. The Blue binder is my home inspection and home-related paperwork. The magazine box is long term storage (taxes, birth certificates, etc.)
Current papers (things that need to be dealt with in the near term) go in this expandable file on or fridge, where the mail also goes.
I scanned several things that I decided I didn't really need the originals of, certificates, family documents, etc. I created a couple of archive albums on my Google Drive to store these items, In the case of family items, I created a shared folder for my sister to also be able to access these (and our kids, should they ever find an interest). . .all without me having to keep any of it.

Komono - Everything else.

This is a HUGE category. I started with the kitchen and then the garage. I still need to do the living room and my studio/office.

I thought there would be more to get rid of in the kitchen, but it didn't seem like I created that much room. The garage however, is going to be empty after

my big garage sale!

I put almost all of my stored kitchen stuff in the sale. I figure if I am going to live in a skoolie one day, I'd better first learn how to cook with just a kitchen full! (it is a big kitchen too!).

I will post a progress update in the coming weeks.

I look forward to seeing just how organized I can get!

​Have a joyous week,
Powered by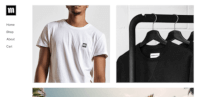 Create your own unique website with customizable templates.