What do I have to say? Clearly. Something. I wouldn't go to all the trouble of setting up this site if I didn't have something to say. Right?

I have so much to say that it is almost mind numbing. . .all of these topics floating around in my head and keeping me awake at night. Yet, I am standing here wondering what to type and hoping that inspiration will come.

My main focus these days is on reinventing my life. What form will that take? I don't really know. When will it happen. . .hopefully in incremental changes over the next four years. Within that time I hope to change EVERYTHING. Yes, everything about my life. Locale. Profession. Lifestyle. Budget. Carbon Footprint. Eye brows. Yes, Eye brows.

It is a funny thing to wake up in a life that you are not sure is your own. To be sure, I made the choices that created the life I am living today. I have to ask, what the fuck was I thinking? I live in the mid-west (land-locked, conservative, humid, mid-west). My career, over the course of a few missteps, has become something I begrudgingly endure. My house is a source of angst like no other. My family. . .ah, my family. . .that's a blog post all it's own.

Suffice to say, I am at that place of discomfort that requires reinvention. But the universe has always made me feel a bit like a kid in a candy store with all of the brilliant options out there. I mean, WOW, there is so much. So I have to focus and spend time figuring out not only what I can do to change this life into one that I am more immediately comfortable with; but (more importantly) which changes will lead to a long term future that I will be content with. It's kind of like trying to see around the corner before deciding which way to turn. . .except it's not a four-way stop. It's a roundabout with a zillion different off-ramps.

Here we go.

​
Powered by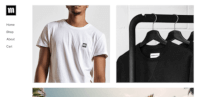 Create your own unique website with customizable templates.