Who Is Jules?
I used to think the answer to that question was exceedingly simple.


I WAS WRONG.


Who is Jules? I become less sure every day that I know. . .so let's start where good stories often start, with a list:
Foodie.
Norwex Consultant.
Wellness Coach in training.
Square Dancer.
Ink Junkie.
Pin-up Model​.
​mimimalist.


---

Adventurer
Friend.
Tattoo Collector.
Home Owner NO MORE.
​Make that a BUS owner.
Hustler
Potter.
Pet Mama.
Seamstress. Hey! I am working on it.
Writer.
Poet, though it's been a while.
Gym Girl.​

---

World Traveler.
Dieter.
Neighbor.
Gardener.
Aspiring Entrepreneur.
Victim.
Survivor.
Protester.

Activist.

Leader.

Skoolie Sovereign.

Juggler.

Hooper.

​Gypsy Soul. . . .

---

You wouldn't know it by my blog posts (ahem, or lack thereof), but life has been so full the last year. Blessings abound. I sold my house and bought my bus. I completed WellCoaches training (working on certification now). I have become a good square dancer (fun!). I have found pieces of myself and given up others. I "konMari-ed" my whole life.

One of my favorite versions of myself is the one that gets to help people live chemical-free lives. As a Norwex Consultant, I teach people how to clean their homes with a few amazing products and WATER. Check out my website or email me if you are interested in learning more.

www.JuliWarner.norwex.bix

---
| | |
| --- | --- |
| Where am I going and how will I get there? | That, my friend is where the adventure lies. . . .One thing is certain, I will not stand still. |
Powered by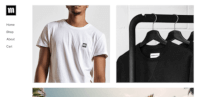 Create your own unique website with customizable templates.